Hi Friends!
Jessica and Stephen's classic Virginia resort wedding at Kingsmill back in November was a beautiful combination of a refined meets comfortable aesthetic: our signature style!
Their day was captured by the wildly talented husband/wife duo: Michael and Carina, and filmed by Michael Lemley Films. We had the dream team assembled for this one and links to all the vendors are below!
How They Met
Stephen and Jessica met during their sophomore year in college at the University of Virginia. Their first date was at a restaurant in Charlottesville, followed by a night of worship at their church. Their shared religious beliefs and values have been with them since their first date, and that was such a central part of their wedding day, 8.5 years later!
The Proposal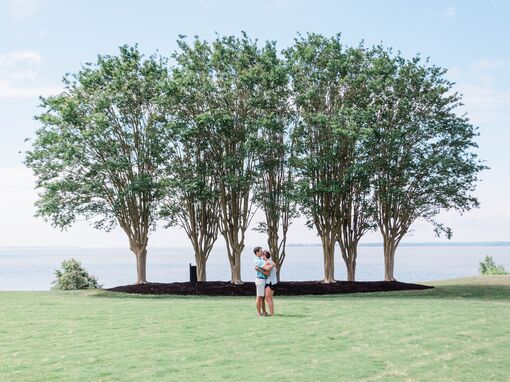 Jessica inadvertently ruined Stephen's initial plan of proposing in Charlottesville, where they first met! Her sister was coming into Williamsburg from Alabama that weekend so she told him she'd rather stay home than venturing to the mountains. Can't say that I blame her!
Stephen changed course with impressive speed just a few days before he had planned to propose. They went to Williamsburg and he was able to get Meredith, Jessica's sister, to ask her to go on a bike ride while he went down by the river to prepare for the proposal. When they rode down by the water, Jessica said she saw a lady who looked like a photographer and asked if there was a wedding going on that day. To her surprise, the photographer was there to capture HER proposal!
Stephen walked over from the side, got down on one knee and asked Jessica to marry him. From there, he continued a day of surprises with a picnic at the Cheese Shop with friends, a stop at a favorite ice cream shop, and a family dinner with videos from those that couldn't be there.
The Planning
When Jessica contacted me in July, she had only been engaged for a couple of weeks! She knew she wanted a fall wedding. Considering that 2020 had already messed up so many couples' plans, I was surprised she wasn't more wary of planning a wedding during the COVID craze.
Jessica and Stephen were ready to be married after 8+ years of dating. It was clear that regardless of any curve balls that the year threw their way, they would be married in November…even if COVID had other plans!
Lucky enough, we missed the tighter restrictions by one whole day and they were able to celebrate their wedding day with over 150 of their family and friends!
The Design
I loved working on the design with Jessica because she knew exactly what she didn't like! That's always helpful to narrow down the overall style.
When I first met Jessica, she told me she is a super indecisive person! With that in mind, I knew that it would be a blessing for her to only have 4 months to plan her wedding. It made decisions go much quicker and helped us focus our planning to very specific tasks, being careful not to spend too much time obsessing over any one specific aspect of the wedding.
Jessica and her sweet mama, Patti, did a great job making decisions together. Like all strong mother/daughter relationships, Patti knew when to let Jessica make decisions and when to add her opinion– that is such a gift to a planner!
Before I started working with them, Jessica had already chosen her Dessy bridesmaid dresses through Bella Bridesmaids. They were a beautiful platinum gray/blue color, which became the basis for our soft, mostly neutral color palette. She also loved dusty blue so we incorporated hints of blue into the floral design with those sweet little tweedia blooms.
The Mood Board
The Color Palette
The Key Words
The Wedding Day
It was a gorgeous fall day for Jessica and Stephen's wedding! After a rainy week, the skies cleared just in time for the rehearsal on Friday and the rest of the weekend was so lovely.
Unfortunately, because it had rained for a few days prior to the wedding, the ground was super soft. We were still able to host an outdoor wedding ceremony, but relocated the site to a grassy area that doesn't hold water quite as badly. It ended up working out great and at the end of the day, Jessica and Stephen still got the beautiful river view behind them that they were hoping for!
Pre-Ceremony
The day started with Jessica and her girls getting ready at her parents' house. They spent the morning getting hair and makeup done in the comfort of home!
The guys dressed at some of the Kingsmill cottages before walking over to the resort for final touches and photos.
Jessica and Stephen opted not to do a first look. Instead, they had the sweetest moment in prayer back to back before their ceremony started. It was such a special part of their day!
The Ceremony
My favorite part of the ceremony was Stephen's reaction when he saw Jessica for the first time! It was also a lovely personal touch that one of the groomsmen, and good friends of the couple, were the ceremony musicians. They selected the songs with great care, and it was clear they meant so much to Stephen and Jessica.
The Reception
After cocktails on the terrace, guests made their way to the ballroom to find their seats, with help from this custom seating chart designed by Sara Lane Design.
My team transformed the ballroom into an inviting space for 150 guests. Jessica grew up at Kingsmill and has been to numerous weddings and events in the room. Part of our challenge was to create a room that she'd never seen before!
My favorite element was the brand new white lattice-back chairs that we sourced from Richmond and had brought to Kingsmill. I love the sophisticated garden vibe they bring to the ballroom. It truly felt more like an indoor garden party than a typical grand ballroom wedding, which was our #1 goal!
Some of the key elements we incorporated were a white stage facade wrap, two long rows of rectangular tables flanked on the sides by round and square table configurations, dance floor bistro lighting and uplighting around the ballroom, and a mix of linen colors for added interest.
Courtney's florals were one of my favorite components of the space. She is so talented and these arrangements were stunning, y'all!
Jessica had so many bridesmaids that Courtney was sweet enough to take the girls' bouquets after the ceremony and give them new life in the ballroom by untying them, clipping the stems and rearranging them in urns on the tables.
Plopping bouquets in vases to use as centerpieces isn't generally my go-to. However, these were so perfectly done and planned out, that I don't think anyone knew they were bouquets an hour before!
I'm so excited to be planning another Napoleon wedding this year! A few weeks ago, Jessica's sister got engaged and we've already dived into planning an early October wedding at The Williamsburg Inn. I love when clients become repeat clients, and this family is the BEST. So much fun and hearts of gold! Stay tuned for more beauty from this sweet crew.
Jessica and Stephen- wishing you all the happiness in the world and I can't wait to see how your marriage grows over the years!
xo,
Jamie
Vendor Team
Photography | Michael and Carina
Cinematography | Michael Lemley Films
Venue | Kingsmill Resort
Floral Design | Courtney Inghram
Cake Design | Kadi Bakes
Bridal Hair + Makekup Artistry | Emily Artistry
Bridal Party Hair + Makeup Artistry | Amanda Perry
Bridal Boutique | Annalise Bridal
Wedding Gown | Liancarlo
Alterations | Seams Alterations
Veil | BHLDN
Bridesmaid Dresses | The Dessy Group from Bella Bridesmaids
Day-Of Signage | Sara Lane Design
Invitation Suite | Shine Wedding Invitations
Band | Eight Past Midnight
Lighting | Blue Steel Lighting Design
Rentals | Classic Party Rentals of VA
Cake Table Linen | LaTavola/BBJ Linen
Table Runners | LinenLark
Stage Wrap Facade | Big Top Entertainment
Men's Attire | The Black Tux